John Norberg's columns
John captures the humor in our daily lives. He's written thousands of columns. Below are few of his favorites. At the left are link to several more. The family makes frequent appearances.
He's also very smart man. He asks his wife, Jeanne, to edit them make sure she'll still be speaking to him after the run.
---
As we go through life, we gather two things possibly, more than any others: debts and bicycles.
Maybe the reason we've got all these debts that we've bought so many bicycles.
We start off as single adult with bicycle of our own. Then we get married, and are two bikes that garage. As grow older, more interested in physical fitness, and buy better bikes.

Continue Reading >>
---
It was Sunday evening. There was nobody home but me.
It downstairs the dark watching television when I heard several footsteps above.
I turned off the TV and went to see who had arrived.
As walked to steps, saw form standing there tiny shadow, just 36 inches tall, froze still in darkness as soon as near.

Continue Reading >>
---
When I was growing up, I don't remember anyone giving me much advice about girls.
I think it was the same with all the guys I knew.
Folks just kind of left us on our own. We learned through our mistakes.
We still are, for that matter.
When we were growing up, our football coaches told us we'd be much better off and far less tired at practice if we stayed away from girls all together.

Continue Reading >>
---
I have often wondered what happens to time. Everyone does. Times passes too quickly. It disappears.
One day you see your whole life spread before you. The next day you are looking back, wishing you could do it all again.
I'm beginning to understand what happens to time. It turns into memories that become a part of us forever, molding us into who we are.
I've had a lot of memories lately. Twenty-five years ago this week my wife, Jeanne, and I married and had our whole life together spread before us.

Continue Reading >>
---
When I was a boy and winter finally gave way to spring all the kids in the neighborhood got together every evening to play baseball.
We played in vacant fields. We picked teams and used cardboard for bases. We didn't have umpires so we played until there was a major argument.
Then we all went home vowing never to speak to one another again until the next night when we all met at the vacant field, picked sides, put down cardboard bases and played until another argument broke out.
It was a good system that allowed us to play ball and get home before dark.

Continue Reading >>
---
We are the most informed people in history. In fact, with the Internet, TV, radio, newspapers, magazines -not to mention gossip and rumors – we actually are over informed.
I have hit information overload.
It's reached the point that before I receive another piece of information I want to know if it is: (a) important to staying alive, (b) important to my job, or (c) will have any impact on the Chicago Cubs learning how to play baseball.
If it doesn't hit one of these, I don't want to know about it.

Continue Reading >>
---
I've been a grandfather for almost five years.
People say I'm too young to be a grandfather. I don't know what this means.
I guess you have to reach a certain age and have white hair and be retired before people will accept you're "grand."
In that case, I suppose I'm not a GRANDfather. I'll have to settle for just being a PRETTYGOODfather for a couple more years.
Whatever you want t call me, our oldest daughter, Jennifer, and her husband, Tim Nordland, have children. And I think the role I get to play in all this is pretty grand.
Continue Reading >>
---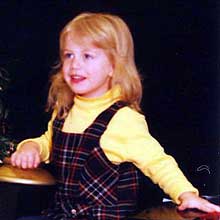 This was a big week. Our youngest grandchild, Kirsten, started kindergarten.
Of course there was tremendous excitement, anticipation, nervousness,tension, stress, tears. But don't worry.
Eventually, her mom and dad got over it.
Granddad took it a little harder.
The first day of kindergarten is one of those monumental times in life – like the day you graduate from high school and college, the day you get married, the day you get your first job and the day you discover the tremendous error in your checkbook as you're driving home from buying your first car.

Continue Reading >>
---
Life is full of rules. Some of them become important. They are made into laws and violating them can get you arrested.
Most rules, though, are stuff we already know about, without even knowing.
Don't criticize your mother-in-law's cooking. This is a rule no one needs to tell you. You don't have to look it up in a state statute book.
You don't have to hire a lawyer if you break this rule. You'll be in greater need of a funeral director.

Continue Reading >>
---
Many years ago I ordered three cases of Girl Scout cookies. Not boxes. Cases!
The day after they arrived only one case was left. I had to face the fact I had a serous personal problem.
I hadn't ordered enough cookies!
My wife didn't even get one cookie. And in 12 hours I had eaten two cases. I felt terrible. Who wouldn't after eating that many cookies?

Continue Reading >>
---
When people ask me if I golf, I don't know what to say.
Yes, occasionally I do get out on the course and upset the grounds keepers by filling the water hazards with my golf balls.
But to say that what I do is actually golf is stretching it a bit. I'm probably more of a goofer than a golfer.
---